Inventory and Supplier Management Features
Instant Inventory Lookup and Tracking in the Back Office and POS to view all store stock levels, transfers, orders and min/max quantities for reorder in real-time on one grid
User-definable weight conversion tables (e.g..carton of 48 units or a 50kg carton)
Purchase products in bulk and repackage for sale (e.g. buy almonds in 10 kg bag, sell by the gram, have retail price per 100 g, and have inventory reports in kg)
Supports multiple Suppliers and multiple Manufacturer's barcode numbers per product
Unlimited main and sub-category setup for products such as Brand, Country of Origin, Packing, etc.
Supports Gift Baskets or Fruit & Vegetable Baskets with automatic stock adjustments when sold at the checkouts
Preparation of recipes including weight, measures of food used, costing of cooked food recipes
Scale, supermarket scanner interface
Print barcode labels for deli products
Touch screens for speed of order entry
Single keystroke for goods receiving for the needs of pre-packed items
Automatic supplier-generated landed cost and retail multiplier
Mass / Department Price Update and POS price update (real-time)
Automatic Stock Replenishment
Product Expiry Date Tracking by batches
Customer Relations Management
Integrated customer loyalty programs and customer relationship management (CRM)
Unlimited user-definable fields that allow you to record specific information about your customers and products such as weight conversion tables, favourite foods and brands
Track customers sales history from the point of their first purchase

Ability to set up alert or reminder messages for specific customers
Buying Assistant and Reporting
Four dimensional grid matrix for products with multiple dimensions such as colour, shelf life, volume and type of goods
Package products for bundling purposes allows for selling products in gift baskets
You are able to purchase bulk products in kilograms and repackage for sale in grams or purchase products in cases and sell them individually
Auto Purchase Order module that forecasts your inventory needs based on sales trends, lead times and current inventory levels for automatic purchase order preparation and distribution
Over 150 standard reports which are easy to use and customizable to your specific reporting needs.

Marketing and Promotions
Reach your customers via our mass email tool for targeted marketing campaigns
Mass price updates for group markdowns, promotions and quantity discount pricing which can be used for seasonal sales or end of line products.
Built-in Gift Card system that allows you to keep all transactional information in house in real-time without transaction fees
Point of Sale
Friendly user interface – anyone can learn to use it in minutes
Multiple shifts per POS
Float and cash count by note/coin denominations at start and end of day (applicable only to standard cash drawers) 
User-definable POS Item Menu for setting up fast buttons for grocery items without bar code labels, and SKU sold by weight such as bananas, deli items, etc.
Comprehensive Product and Customer search options
Integrated Debit/Credit system to eliminate double entry errors
Order and Delivery management, with web online option
Monitor the productivity of sales reps in units or dollars sold per hour
Up-sell alert messages to products to notify staff when an up-sell opportunity arises or any food allergies are related to a specific product
Inventory Lookup within the checkout process allows the cashier to instantly engage customers on the current stock availability
Hold and retrieve transactions
Scale with supermarket Scanner interface and Touch Screens for speed of Order entry
Pole Display/Dual Screen and Deli Scale interface to print barcode labels for deli products


Deli Scales interface with built-in Barcode Printer for 'Random Weight' items
Instant printout in bar or kitchens for expedited order preparation (for bar and cafe) 
Gift Receipt
User-definable Tender Setup – 20 payment types – supports multiple and unlimited tenders per transaction
Managerial access rights for stock transfers, stock receiving, stock adjustments and stock count processing
Managerial access rights restriction to back office reporting on sales and stock performances
Promotions & Markdowns
Package Sales such as set meal bundles
'Happy hour' price control by time, day of week
User-definable promotion definable by promotion names and prices, start/end date for brands, product categories, suppliers or range of SKUs
Preset quantity discount by group of items for upsell, example avocado at regular price $3.90 each – Buy 3 for $10
Automatic discount of perishable products by time, day of week i.e Quick Sell 30% off or at markdown price
Back Office-managed – POS Marketing Features
Frequent Shopper Rewards/Loyalty Points Systems
Gift Card sales and usage tracking built-in
Gift Voucher sales and redemption management
Discount Coupon management
Email broadcasting to your targeted customer base such as regular newsletter, promotions, announcements, points statement
Conditional Promotion – NEW!



Set up discounting and promotion rules in the back office that will be applied at POS at the time of customer purchase
Learn more about Aralco's Conditional Promotion feature here:
Conditional Promotions
Back Office Reporting Features
User-definable Report Generator
Create your own formulas
Report email scheduler
Cross tab reporting
Security access rights by company divisions such as purchase department, accoints department, etc, and by individual employee
Limitless database history for single and chain store
Interactive with Microsoft Excel, Outlook, Word and PDF
BI Dashboard available on desktop computer, IOS and Android phones, etc.
Integrated Scale and Barcode Printing
With Aralco's in-store scale interface, product data such as SKU or PLU numbers, Description, Price per kg or gram are transmitted to the Digi SM100 Scale/Printer electronically over the local area network (LAN). With current product data on the Digi SM100, the store user simply performs product packing with weigh-price-labelling made easy with manual and auto mode options.

Once the cashier scans the 'Price by Weight' barcode labels at the checkout lane, Aralco POS automatically interprets the product code, weight of the item(s) and the unit price accurately and instantly.
In-Counter Bioptic Barcode Scanner and Scale 
Aralco POS has built an interface for In-Counter Scanner/Scales from Honeywell, KiloTech, Caszero, Magellan, OhausAdventurer, Datalogic and Digi Scales. Virtually any scale can be used once specifications have been provided.
Five-sided, 360-degree scanning increases productivity in high-volume barcode scanning

Only bioptic device to offer pre-aligned optical scanning modules and independent scanning planes that maximize uptime and maintain productivity

Aggressive scan performance on high density and poor quality barcodes minimizing the need for manual keying

Flip-up weigh bar (single or three-sided options) allow your cashiers to accurately weigh oversized produce, reducing shrink loss
Please note: In-Counter Bioptic Scanner units are also available without the scale option.

Elevated/Pole Scale Scanner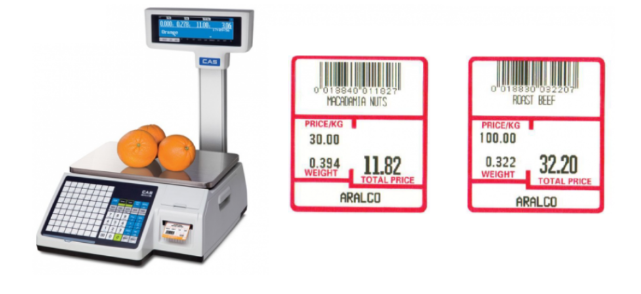 Bench Scale Printer
Ideal for placing on display-serve refrigerated counters in delicatessens or butcher shops.

Regular Barcoded Shelf Labelling



Aralco offers a variety of formats for direct output of shelf labelling to any standard A4 laser.



* Barcode printers' interfaces for in-store label printing are available for products without manufacturer barcode labels. Label layout, font type and sizes are fully user-definable.

Integrated Electronic Shelf Label Systems (ESL)
Aralco's in-store, Electronic Shelf Label interface transmits new products, markdown prices and product promotions automatically to the local ESL Server which in turn broadcasts this data to each electronic shelf label instantly.

The ESL in-store server system is a highly-customizable solution suitable for any retailer. It enables wireless instant updates of label content effortlessly from an individual display to every ESL across entire retail floors.
Integrated Closed Cash Management Systems
The Aralco Retail POS System is fully integrated with the CashGuard Closed Cash Management solution to eliminate manual cash handling, providing seamless cash payment processing between the POS and CashGuard's note and coin dispensing systems. 

With Closed Cash Systems at the checkouts, cashiers no longer need to organize till floats, count cash/coin or reconcile the till at the end of a shift as this is all done automatically by the systems. By displacing manual cash handling, cashiers cannot access cash like in conventional 'till drawers' anymore, and all transactions are calculated and administered by the system removing the risk of pilfering and mistakes from the till.

The complete integration between Aralco POS and In-Counter Bioptic Barcode Scanners, Weighing Scale, Electronic Shelf Labelling (ESL) and Closed Cash Management Systems, maximizes in-store productivity, speeds up checkouts and directly improves the customer shopping experience.


See Aralco's complete Grocery Retail Solution in action with CashGuard Cash Management, Scale, Scanner and POS Display: