Aralco offers three e-Commerce solutions
Built-in e-Commerce Solutions
Third-Party Website Interface Options
Third-Party Database Interface Options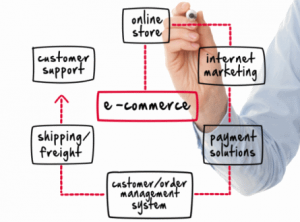 1) Built-in e-Commerce Solutions
Aralco's own built-in solution operates with direct connection to the main retail database for fast, accurate and low-maintenance e-Commerce operation.
Highlights:
Directly interfaces with the Aralco Back Office & POS

Instant view of new/ modified "web" designated products on the shopping site

Instant upload & view of product pictures, descriptions and web prices on the shopping site

Integrated Shipping, Payment, Invoice

Automatically import web customers to Aralco master database

Automatically import web orders to Aralco POS Order Entry System, within seconds

Automatically generated web order reports can be viewed and/or emailed to the warehouse logistics staff so they can expedite the web orders and use the Aralco POS to ship the orders to customers anywhere in the world.

Automatically adjusts product inventory levels and optionally display "Available" quantities by location

Map display of store location that show available inventory by location to web shoppers

Aralco offers customizable solutions with this option
Optional Features:
Gift Cards (Sales & Usage as method of payment) fully integrated to the Brick & Mortar system where you can buy gift cards in stores or online and use them in stores or online
Upcoming: Frequent Shoppers Reward/Points System that rewards point to online shoppers based on back office settings that are also used for regular stores. Customer can view their Point Status, earn points and use points as a method of payment for on line purchases
Upcoming: Payments on Account can be made by "Account" customers with available credit setup up on the back office systems applied to in-store and online customers. Customer can view their account status and make payments online by invoice or toward accounts balance
This website is entirely developed by Aralco and uses Aralco's own website development tools.
2) Third-Party Website Interface Options
If you already have your own website and wish to keep it and "add" a button to connect Aralco's e-Commerce component to your site, this may be the right solution for you.
We can work with your existing website developers to place a "Shop" button on your site and connect your Back Office database to your site.

You will receive the benefits of a direct connection of the Aralco's own e-Commerce and all the high performance, accuracy and feature-rich components without losing your investment in your existing website development.
3) Third-Party Database Interface Options
This option is offered by Aralco through our Universal Data Interchange (UDI). With this solution, clients can utilize third-party shopping cart applications and have their developers interface with Aralco's UDI data base. When you create a product in the Aralco back office system, the information is written into the UDI database which can reside on the same server or external to the brick and mortar database. Web Orders are also automatically imported from UDI into the main database for viewing and shipping through the Aralco POS. The information in the UDI database can be limited to what the e-Commerce site requires such as product information, web orders, web customers etc.
Here are some of the services Aralco offers for interface to a third-party e-Commerce system:
Aralco can offer technical assistance to your e-Commerce developers

UDI database only holds information for e-Commerce use so it can reside anywhere

Web designated product information is passed on to third party shopping cart through UDI

Automatically import web orders and customers to Aralco's main database

Automatically exports web orders to Aralco POS Order Entry system

Automatically generated web order reports can be viewed and/or emailed to the warehouse logistics staff so they can expedite the web orders and use the Aralco POS to ship the orders to customers anywhere in the world

Automatically adjusts product information including, inventory levels, product pictures, descriptions and prices