Changing the Sales Tax Rate
The sales tax rates are managed within File » System Options » Tax Types.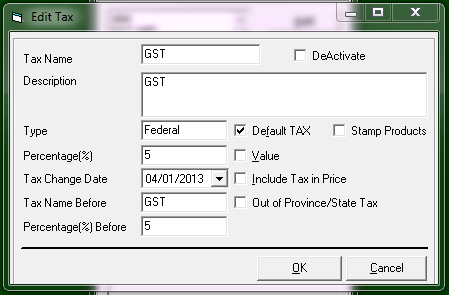 Any changes to the Percentage(%) field will affect the Point of Sale fairly immediately unless the Tax Change Date is set for the future.
If you have advanced warning (which you probably will) of when the tax will be changing, the system provides an easy method to have the new rate kick in on that date.
Enter the new sales tax rate in the Percentage(%) field;
Enter the date the new tax rate will take affect in the Tax Change Date field;
Enter a name for the tax in the Tax Name Before field – this will replace the Tax Name field. This doesn't have to be different but is required;
Enter the current tax rate in the Percentage(%) Before field;
Press [OK] to save the changes.
At 12:00AM on the Tax Change Date, the system will automatically enable the new rate. Point of Sale will show the Tax Name Before until the Tax Change Date.
If you require further assistance, please contact our Support Department at 604-980-4199 ext 2., or click on this link to submit a support request.