Electronic Signature Capture
Have you ever wanted to have your customers sign for products and have the signature printed on the receipt or invoice?
Not a problem with our optional Electronic Signature Capture add-on.
Talks directly to the Topaz SigLite device to capture the signature right from within Point of Sale;
Embeds the signature in the invoice and receipt;
Prints the signature on all associated invoice forms, and receipts;
Stored permanently for reprinting at any time.
Setup
After you've installed and configured the Topaz SigLite devices on your workstations:
Within Point of Sale, go to Setup » Software Options » Settings or within Back Office, go to POS » POS Settings and select the register to change;
Navigate to [+] Receipt and set the fields to:

Digital Signature Text on Receipt… Enter the optional text to appear along with the image of the signature;
Force Signature… Answer Yes if a signature is required for all transactions;
Get Digital Signature…  Set to Yes to enable this feature;
Print Digital Signature on Receipt… Answer Yes to print the image on the receipt;

Save your settings;
Repeat for each register requiring the Digital Signature Capture feature.
If you are using full Invoices, Packing Slips, etc. and you require the signature printed on the form:
Within Back Office, go to POS » Design Invoice;
Select the form you want to change, and select Edit;
Right click on the form and add a new element. The following example is how you might place the signature at the bottom left corner of a form:
Close the edit window and save the form;
Repeat this on each form you need the signature printed on.
Restart and log back into Aralco Point of Sale after changes have been made.
Capturing Signatures
During transaction entry, after pressing Finish and Print, a window will appear waiting for the customer to sign: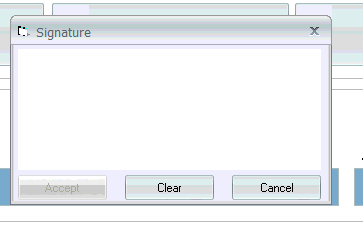 Once the signature is accepted, the window will close, and the invoice / receipt options window will appear or the form will be automatically printed.
If you ever reprint the invoice or receipt, the signature will be included on the document.
If you require further assistance, please contact our Support Department at 604-980-4199 ext 2., or click on this link to submit a support request.