Message – "There is a new Aralco Point of Sale program available."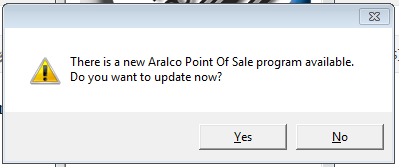 If you receive this message and have not been given instructions on how to respond, please contact Aralco Support at (604) 980-4199 ext.2 and ask for assistance before continuing on.
Should you be unable to reach an Aralco Support representative, answer No at this prompt until the matter is resolved.
If you require further assistance please submit a support request through our on-line service, or contact our Help Desk at 604-980-4199 ext. 2.